by Mary Davis with Realty Professionals of Texas
Data Produced by: Real Estate Center at Texas A&M University Data: North Texas Real Estate Information System 4/6/2021
We are seeing a huge lift in percentage changes in both closed sales and increase in price per square foot across the state of Texas.  In many areas of the state, both are up 11% more.  We are seeing more changes taking place in the central to eastern portions of Texas from Dallas / Fort Worth to Austin and as east as Beaumont and all inbetween.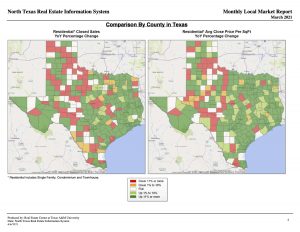 Areas like Dallas Fort Worth have seen increases in their price per square footage up 11% and more; whereas, McAllen, TX has seen a large drop by at least 11% in change in price per square foot from last year.  You can also see that several metropolitan areas have also seen an increase from 1% to over 11% in number of closed sales from year over year.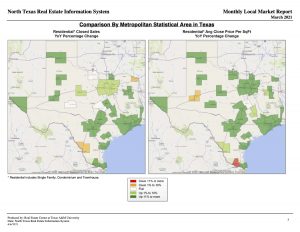 When comparing the local market of Dallas-Fort Worth-Arlington areas, we see an broad range has increased in price per SqFt from previous year by 11% or more in many areas.  A lot of areas are down between 1% and 11% on number of closings and in a large part due to the lack of sellers selling their homes.  The DFW inventory of housing for sale has seen a 40% all time low.  Less homes on the market and more buyers coming in from other states are driving prices up.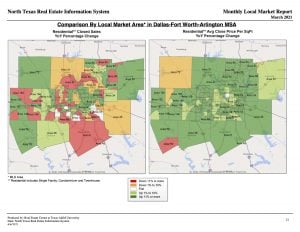 These charts below focus in on Tarrant County, Texas one of the more desirable counties in the state of Texas.  The blue dots represents homes sold and you can see where the scatter lies.  Most of Tarrant County homes have increased above 11% from YoY Price per SqFt.  You may also notice areas like Southlake, Mansfield, Hurst, Colleyville are down in closed sales from previous sales this time of year.  This is mainly due to lack of inventory in these areas.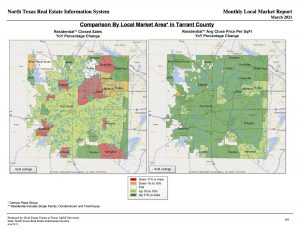 All this said, Texas is booming!  Prices of homes continue to grow as more buyers continue to come with warmer weather  ahead.  Inventory has started to open up a bit more, but not to the extent real estate agents would like to see this time of year.  If you are looking to buy or sell in the DFW area you will want to see how Mary Davis and Scott Davis can help.